PROFESSUR
EIRINI KASIOUMI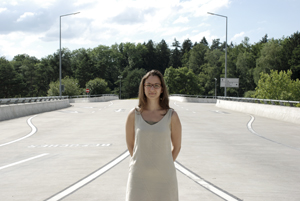 Eirini Kasioumi is a doctoral candidate and researcher at the Chair of Architecture and Urban Design, ETH Zurich, since 2012. She studies the integration of airports in metropolitan areas  as part of the Airports and Cities platform, and her doctoral research, funded by SNF, focuses on planning strategies for the Paris airports. Areas of interest and teaching include urban design theory, infrastructures and urban strategies, and the design and politics of large-scale projects. Prior to ETH, she had studied architecture in Greece and city planning at MIT, USA, and had worked at KCAP Zurich, in architectural offices in Greece, and as a research and teaching assistant at MIT.
Kontakt:
Eirini Kasioumi
ETH Zürich – Institut für Städtebau
ONA G 41, Neunbrunnenstrasse 50, 8093 Zürich
Telefon +41 44 633 48 36
Mobile +41 77 453 31 40
kasioumi @ arch.ethz.ch
Hauptpublikationen
Kasioumi, Eirini (2015). "Emerging planning approaches in aiprort areas: the case of Paris-Charles de Gaulle". Regional Studies, Regional Science, 2:1, 407-413.
Kasioumi, Eirini (2015). "Urban Design Models for Urban Megaprojects in a Global World". In Global Schindler Award 2015 Shenzhen Essays, edited by K. Christiaanse, F. Hoeltzel, M. Perret, and D. Kron, 46-55.
Kasioumi, Eirini (2011). "Sustainable Urbanism: Vision and planning process through an examination of two model neighborhoo developments". Berkeley Planning Journal, volume 24, 91-114.