TEACHING
ELECTIVE COURSE FS15 WHO BUILDS THE CITY?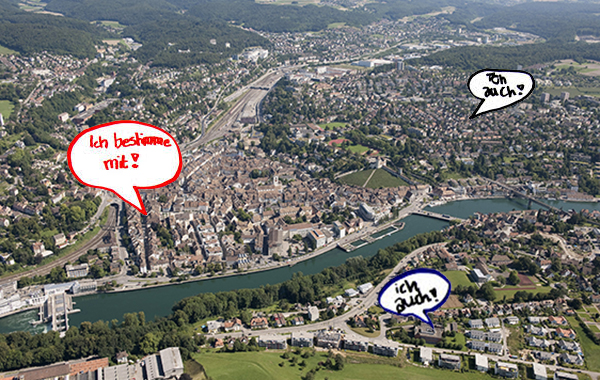 CASE STUDIES IN CITY OF SCHAFFHAUSEN
INSTRUMENTS, ACTORS, PROCESSES – WHO BUILDS THE CITY?
The problem with participation

In the contemporary planning practice, the idea took hold that spatially relevant stakeholders should be involved as early as possible in the planning process. This is done in the local design and urban planning practice often on the well-established Testplanungsverfahren. Nevertheless, participatory processes are sometimes experienced as frustrating and less profitable. In addition, the interested public, if it is at all included, perceives such processes as untrustworthy due to the fact that the involvement happens too late or does not undergo a follow-up if and how their contributions have been included. In this elective we will investigate recently completed or ongoing—failed and successful—urban design and planning projects. There will be a particular emphasize on multi-scalar actor constellations.

Case studies in the city of Schaffhausen

The analysis area is the city of Schaffhausen. There should be willingness for small field studies on-site. Representatives of the city of Schaffhausen will attend the final presentation.

International research project
The chair engages in an international research project comparing several mid-size European city regions by focusing on the question how city development can be steered and how formal as well as formal strategies and planning instruments influence the latter. Important aspects are the legislation, governance instrument, political culture and planning histories.

Meetings and organisation

Independent work between the input lectures with the opportunity to to meet and discuss during office's hours. After the successful conclusion of the course 3 ECTS credits will be awarded.
Elective course FS15 | Prof. Kees Christiaanse, Fabienne Hoelzel
Thursdays, 16–18 Uhr, ONA G41
Thu, 19.02.2015:
Introduction and task assignment | Fabienne Hoelzel
Thu, 26.02.2015:
Lecture | Tanja Geuggis (tbc), responsible of spatial planing, urban planning department city of Schaffhausen
Lecture | Christian Wäckerlin (tbc), Architekturforum Schaffhausen
Thu, 26.03.2015:
Intermediate presentation
Thu, 07.05.2015:
Final presentation with guests from Schaffhausen

Contact: Fabienne Hoelzel