RESEARCH
THE POTATO PLAN COLLECTION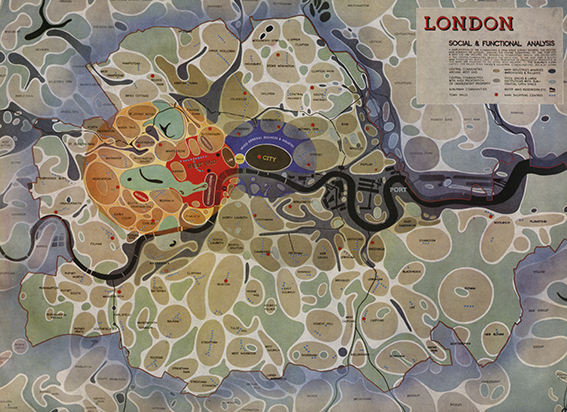 This research project deals with Patrick Abercrombie's famous 1943 'Potato Plan', and its usability as a contemporary tool to analyze urban territories. Applying Abercrombie's method on 40 cities from around the world, we are putting together a collection of polycentric metropolitan spaces.
Patrick Abercrombie's plan describes a London, which consists of neighborhoods that are simply organized; yet tied together in a complex way. According to him, London is a 'city of villages'. When grouped, neighborhoods form communities, and in turn, communities taken together form the 'machine London'. The exact definition and size of the individual neighborhoods plays a central role in Abercrombie's analysis raster. The research projects attempts to find out to what extent the relevant parameters differ from city to city by bundling together a large number of 'potato plans' from various metropolises, drawn by city planners and architects with local knowledge. In doing so, it brings the selection of the decisive parameters for defining neighborhoods to the foreground.
The goal of this comparative study is multifold: first, it provides an overview of the qualities that define what is a neighborhood in today's cities. Secondly, it contributes to understanding the topology of polycentric metropolitan spaces. And thirdly, it offers a critical examination and potential updating of the Abercrombie method.
Contact