Urban Reports
International symposium on strategies in urban development in six European cities
Thursday, 23 November 2006
ETH Zentrum HG F 30
Prof. Kees Christiaanse, Nicola Schüller, Petra Wollenberg

ISB Institut für Städtebau / Institute of Urban Design
NSL Netzwerk Stadt und Landschaft / Network City and Landscape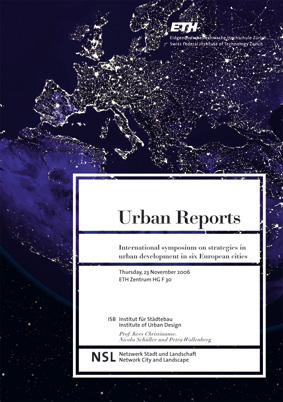 Home | Topic | Programme | Registration | Key Facts | Sponsors | Download flyer
Urban Reports

Urban Reports is an international symposium on current strategies in urban development. It will appeal to specialists in the fields of architecture, urban design, planning and the general public providing a platform for discussing trendsetting concepts in urban development with well-known international personalities who represent various disciplines, both in theory and practice.
The symposium is hosted by the Chair of Architecture and Urban Design, Prof. Kees Christiaanse, at the NSL – Network City and Landscape, and is part of the postgraduate education course in spatial planning at the ETH Zurich.



Speakers

Juan Alayo Azcárate, Director of Development Planning, Bilbao Ria 2000; Floris Alkemade, Architect, OMA, Rotterdam; Stig L. Andersson, Landscape Architect, SLA, Copenhagen; Prof. Kees Christiaanse, ISB ETHZ; Franz Eberhard, Director of the Department of Urban Planning, Zurich; Prof. Dr. Angelus Eisinger, Historian of Urban Development and Planning, University of Liechtenstein; Michelle Fagan, Architect, FKL Architects, Dublin; Ivica Fanjek, City Bureau for Physical Planning, Zagreb; Prof. Dr. Carl Fingerhuth, Architect and Planner, Zurich; Dick Gleeson, Deputy City Planning Officer, Dublin; Prof. Jens Kvorning, Architect, The Royal Academy of Fine Arts, Copenhagen; Prof. Vedran Mimica, Architect, Berlage Institute, Rotterdam; Prof. Helena Njiric, Architect, Zagreb; Sasa Randic, Architect, Rijeka; Javier Salazar Rueckauer, Architect, Bilbao; Ton Schaap, Physical Planning Department, Amsterdam; Nicola Schüller, ISB ETHZ; Christian Sumi, Architect, Burkhalter Sumi Architects, Zurich; Petra Wollenberg, ISB ETHZ



Revision r1.18 - 01 Dec 2006 - 10:09 - RegisterGreen
Professur Kees Christiaanse, Institut für Staedtebau, Netzwerk Stadt und Landschaft
This website has been archived and is no longer maintained.