LEHRE
FALLSTUDIEN ZUM URBANEN RAUM: WAHLFACH FS18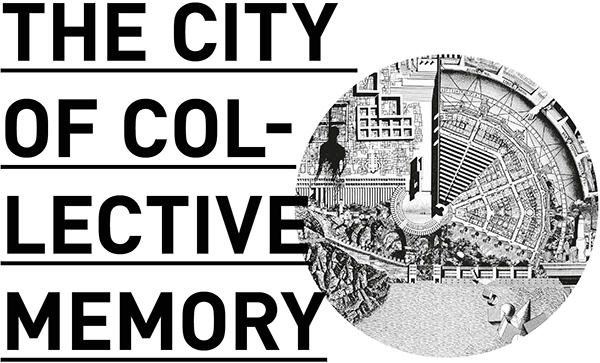 Urban Design Theory: Texts, Positions, and Discourses
FS18: The City of Collective Memory
The aim of this reading seminar is to gain deeper understanding of themes, positions and discourses within the field of urban design. The current class will introduce a range of theories that address the relationship of collective memory and urban form.
The term collective memory was coined by the philosopher and sociologist Maurice Halbwachs. His primary thesis is that human memory can only function within a collective context. Collective memory, as Halbwachs asserts, is always selective; various groups of people have different collective memories, which in turn give rise to different modes of behavior. His work also points to the fact that space is territorialized by collective memory. It then becomes apparent that remembering is profoundly shaped by the mutually responsive relationship between social groups and the places they inhabit.
In her seminal book, The City of Collective Memory, M. Christine Boyer picks up Halbwach's theses and connects issues surrounding individual identity and its formation with the city with the history of different modes of inquiry into the city. Her work describes a series of different visual and mental models by which the urban environment has been recognized, depicted, and planned. Boyer identifies three major maps: one common to the traditional city —the city as a work of art; one characteristic of the modern city —the city as panorama; and one appropriate to the contemporary city —the city as spectacle. Applying Boyer's theoretical grid, this reading seminar will examine a range of theories that address the relationship between collective memory and urban form. Below a few positions as teaser:
Aldo Rossi's concept of the city being its people's collective memory, whereby memory is the guiding thread of the entire complex urban structure and its artifacts.
Colin Rowe's Collage City, a post-modern work of art, a composition of remembrances, shifted contexts, recycled meanings, and metamorphoses, which allow the city to form its own meanings via fragments borrowed from collective memory.
Christian Norberg-Schultz's concept of the Genius Loci, which represents the sense people have of a place, understood as the totality of all physical as well as symbolic values in both nature and the human environment, that is, the collective memory of a place.
Roger Trancik's discussion of modernism's rupture with history, its functionalist attitude towards open space, and the resulting compositional forms (a term coined by Fumihiko Maki), as one of the major causes for what he calls lost spaces in 20th century urbanization.
Robert Venturi's and Denise Scott Brown's analysis of the commercial-vernacular, which established Las Vegas in the collective memory of Americans as a major entertainment mecca and a textbook case for urbanization driven by demands of automobility, the consumer society, and the desire for spectacle.
Rem Koolhaas' writing on the Generic City, whereby he claims that identity, conceived as a form of sharing the past, is losing elbow-room. However, Koolhaas also asserts that, despite the contemporary city being liberated from identity, history is still its major preoccupation.
Following an introductory lecture, we will discuss one text each week and juxtapose the different positions they represent to each other. Accordingly, participants will be expected to read one short text each week, to once prepare and hold a 15-minute presentation of a text and to actively participate in the discussions. Optionally, position papers can be written after the semester as elective theses. A reader with selected texts and short thematic introductions will be provided.
CLASSES: Thursdays, 4–6 pm
ROOM: HIL E 10.1
INTRODUCTION: Thursday, 22.2.2018, 4:00 pm
LANGUAGE: English
PARTICIPANTS: Max. 20
Mystudies: 052-0722-18
ECTS: 3 credit points
LECTURER: Dr. Daniel Kiss