28.03.2011 / RUAIRI GLYNN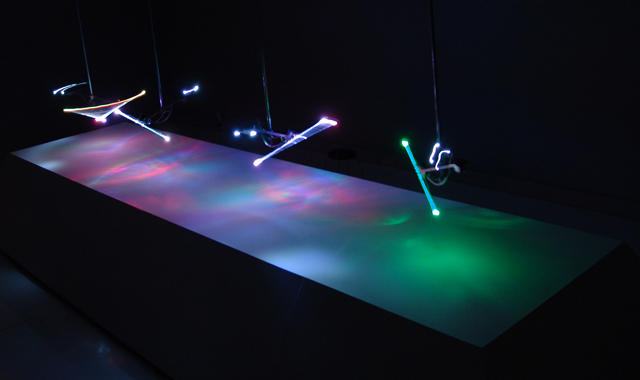 28.03.2011, 16:00, Ruairi Glynn @ CAAD, HPZ F
Motive Architecture.
Although Vitruvius's treaties included clocks, waterworks and mobile war machines; architecture is often understood to be an art of space, not of time. Architecture's traditional role has been the spatial backdrop to social interaction and performance: In the 20th Century, Price's 'Fun Palace', Archigram's 'Instant City', and Fisher's various 'Staged Architectures' challenged this axiom, imagining and constructing architectures that were active kinetic participants in their own right. Increasingly architects enabled by computational technologies are creating spaces that can engage actively within social and performative interactions.
To have a motive, is to have reason behind your behaviour, so how our built environment saturated with computation can sense the world, and make decisions about its behaviour will be discussed.
To be motive, is put behaviour into motion, so I will present my kinetic installations and discuss their context in the long history of architectural automata and the rise of robotic architecture today.
Ruairi Glynn splits his practice between the production of public art installations, teaching, curation and writing.聽 He is a Lecturer in MSc Adaptive Architecture and Computing and MArch Architectural Design at the Bartlett School of Architecture, University College London and MA Textile Futures and MA Industrial Design at Central Saint Martins College, University of Arts London. His blog www.interactivearchitecture.org is the largest online resource dedicated to the territory between interaction and architectural design. He is regularly invited to lecture, run workshops and exhibit his interactive art works internationally, receiving prestigious awards including at the 11th Annual "Concurso Internacional de Arte y Vida Artificial", Madrid Art Fair. and the 'European Top Talent Award for Digital Media', Europrix. He has organised and curated over a dozen conferences, symposiums and exhibitions all centred on the driving influence computation is having on design and research. His latest event www.fabricate2011.org will be held in London in April. For information go to www.ruairiglynn.co.uk
Ruairi Glynn's lecture:

_
As starting point Ruairi characterize kinetic architecture into three distinct conceptual modes of behaviour.
1. Automatic. Single choreographed behaviour following a linear arrangement from beginning to end.
2. Reactive. Multiple choreographic behaviour following non-linear arrangements, triggered by stimuli.
3. Interactive. Un-choreographed behaviours formed through exchange between participants.
Ruairi's lecture was divided in three parts. The first one where in a mater of introduction he reviewed several inspirational projects from simple time-based interactions to adaptive systems. In the second part a more theoretical basis was elaborated, concepts as Attention, Animism, Perceptual Causality and Puppetry are the basis of his research as an Interactive Architect. In the last part he presented some students projects from the Bartlett Master of Science programme.